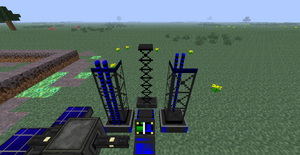 Launcher Support Frames are part of ICBM mod used for increasing the accuracy of missiles launched from Launcher Platforms they are supporting.
Description
Edit
There are 3 tiers of Support Frames labelled T1, T2, and T3 like the Launcher Platforms and Launcher Control Panels. To use one, place it in center of either flat side directly opposite to Control Panel of the launcher). Only one can be used per Launcher Platform. 
Right-clicking the Control Panel will show current inaccuracy of your missiles (30, 15, 7 or 0). 
All tiers of Launcher Support Frames will work on all tiers of Launcher Platforms, and increase accuracy in following manner:
T1 - From 30 blocks (default) to 15 blocks
T2 - To 7 blocks
T3 - To 0 blocks (pinpoint accuracy)
ICBM
Explosives

Tier One

Tier Two

Tier Three

Tier Four

Machines
Turrets
Electric Items
Miscellaneous