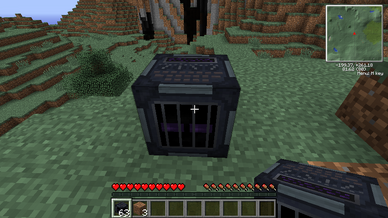 Works like all other explosives, including TNT, until it explodes. At that point, it creates a purple ring of particles in a sphere with a radius of about 18 blocks for about ten seconds. Players inside of this region are teleported to the End, and ~10 Endermen are released into the world.
When the explosive is detonated, any mobs in the area are pulled toward it, and a crater (about the size of a TNT explosion) is left. It is possible to create an Ender Missile, which acts in the same manner, but can be launched from far away.
Use in the End
Edit
If used in The End, it puts you in an End-like place, but you can't fall to your death.  There are no blocks and you can't hit anything. All there is an Ender dragon kind of floating in place and the healing crystals. If trapped in this space, the only way out is suicide.
It is also possible to catch the Enderdragon inside the blast radius, at which point it will be transported to the Overworld. If it is then killed in any dimension other than The End, the End Pedestal and Dragon Egg will generate beneath it as normal, but the End Portal will simply link back to The End, rendering the world "unbeatable" and making The End inescapable, except by suicide.
ICBM
Explosives

Tier One

Tier Two

Tier Three

Tier Four

Machines
Turrets
Electric Items
Miscellaneous