Crate has been removed from the mods, the information presented here is for reference only.
Crate
Type
Storage
Tool
Electricity
No
Stackable
Yes (64)
Data Value
3033
Mod Included
Assembly Line
A Crate is a storage device that can hold up to 2048 items of the same type. Players will store whole stack of items on their hand by right clicking a Crate. They will receive 64 items by left clicking a Crate. If the Crate is broken, all items will fall out.
If players hold shift and left click the Crate, they will receive 1 stack of the item. Also, players can carry a Crate with items by right clicking it with a Wrench. However, it will slow down players' walking speed when they are carrying the crates.
There are 3 types of Crates currently:
Basic Crate
Advanced Crate
Elite Crate
Crafting
Edit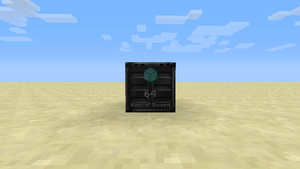 Application
Edit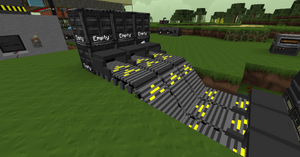 Players can place a Crate above another one by placing 2 blocks of Dirt or higher, then place the Crates along the Dirt blocks.
Also, Crates can be very useful for storing various items like ores, metal dust and metal ingots. It helps save the space by reducing the use of Chest which has smaller slots for storing items.
Other than that, Crates can be used for receiving items from Conveyor Belt by placing a Manipulator beside it. It is particularly useful for collecting smelted ingots or mined ores.
Tutorials
Edit